Parachute Accounting Program
Paraşüt accounting program: e-invoice integration, e-commerce integrations, easy income, expense and current account tracking, e-collection integration, allows you to make follow-up reports.
Unlike pre-accounting programs, Paraşüt is a web-based (online) program. The financial data you enter in Paraşüt is stored in the cloud and backed up regularly. In this way, you can access your financial data from anywhere you have internet access. You can log in to your Paraşüt account via a web browser from your laptop or desktop computer, tablet or mobile phone. In addition, you can download our smartphone applications (iOS and Android) to your mobile phone or tablet and control and manage your financial data from wherever you are.
Paraşüt Accounting Program can track your income and expenses, current accounts, cash flow and stocks, and helps you to easily access reports that are vital for your business (VAT report, sales report, profitability report, products in stock report, etc.).
If you are looking for an agency for digital marketing service, read our article.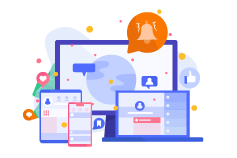 E-Invoice Integration
Paraşüt Accounting Integration allows you to integrate e-invoice immediately. Without wasting time, you can start paying your electronic bills from your desktop computer or mobile phone.
Thanks to Paraşüt e-invoice integration, you can create e-invoices in accordance with the standards of the Revenue Administration, keep your electronic invoices digitally and benefit from reporting options.
Special Solutions and Integrations for E-Commerce Sites
Paraşüt works in full integration with E-Commerce sites and automatically transfers orders to the system. Thanks to Paraşüt E-Commerce Integration, N11, N11pro, GittiGidiyor, Hepsiburada, Amazon, WooCommerce, OpenCart, ePttAVM, Trendyol, WHMCS, Farmazon, AliExpress, ÇiçekSepeti, Akakçe etc. You can automatically transfer your sales on the sites to the system, issue your invoices quickly and send them to your customers.
E-Commerce integration is the link that enables your Marketplace or e-commerce site where you make your e-commerce sales to work in harmony with different systems and data flow between applications.
You can use these packages to set up an E-Commerce site and system: E-Commerce packages
Trendyol Parachute Integration
With Paraşüt, you can easily and quickly integrate your sales operations in Trendyol. Trendyol checks your orders, you can easily create invoices from the office or anywhere on mobile.
Amazon Parachute Integration
Even though Amazon doesn't seem to be seen much in Turkey, it will occupy a lot of space in Turkey as well as in the world. With Paraşüt, you can easily track and invoice your orders on Amazon.
You can review our web design and e-commerce services on our pages: Web Design, E-Ticaret …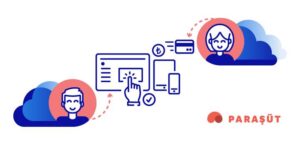 Parachute Accounting Program Features
With the Paraşüt Income and Expense Tracking Program, you can easily track the cash inflows and outflows of your business, the expenditures of the employees, and the cash and bank movements.
Paraşüt İle Gelir Gider Takibi
Incomes-Expenses
By viewing your e-invoices on the system, you can keep track of your income, expenses and cash flow of your business.
Personnel Sales Tracking
You can register all employees to the system and track the sales of your employees on a single screen.
Cost Management
You can easily add the expenses of your employees on behalf of the company to the system and view where and how much is spent.
Case Tracking
You can control the money in and out of all your safes from the system.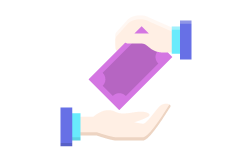 Bank Tracking and Integration
With Paraşüt, which makes a difference to its competitors by collaborating with many banks, all your bank transactions are automatically transferred to the program. Your account balances and current accounts are automatically updated in line with bank movements. You can view all your transactions in your bank accounts on a single screen, and you can check current or historical transactions at any time.
Current Account Tracking with Parachute
Customer/Supplier Tracking and Management
You can easily record your customer and supplier information thanks to the current account tracking program of Bizim Account, an online pre-accounting program. You can list the customer and supplier information that has a balance whenever and wherever you want. You can check the balance specific to the customer and supplier.
Automatic Update
If you are using Paraşüt Pre-Accounting Program; As soon as you create your e-invoice, your current account is automatically updated. You do not need to make a separate update for each transaction.
Automatic Reminders
Bizim Hesap, zamanı gelen tahsilat ve ödemeleriniz için otomatik hatırlatma yapar. Dilerseniz program üzerinden vadesi yaklaşan tahsilatlarınız için müşteri ve tedarikçinize hatırlatma e-postası gönderebilirsiniz.
Online, Quick Reconciliation
You can send a single-click reconciliation letter to the customer and supplier.
Check, Note and Cash Input
You can save your payments and collections to your current accounts with cash, check and promissory notes.
Online E-Collection Integration
Online Pre-Accounting Reporting Program
Parachute Accounting Program Advantages
Paraşüt Accounting Program has many advantageous features free of charge. Cargo, virtual pos, e-invoice, e-commerce, unlimited users and other advantages make Bizim Account preferable.
Free Shipping Integration
Free Virtual Pos
Free E-Invoice Integration
Free E-Commerce Integrations
Free E-Commerce Integrations
Unlimited User Features
You can find more information about parachute on the site: Parachute